How can I save the graphical settings I made in Abaqus/CAE? I do not want to repeat these settings when opening Abaqus again.

You must login to post comments
If you change your display options settings, for example:
– changing the render style
– changing Viewport Annotations options (Look at this Q&A:
How can I change font size of legend block in Abaqus plot? The texts are unreadable.)
– turning off the display of datum planes
You can store the new settings for future sessions.
From the main menu bar, select File > Save Display Options to save all the current display options settings: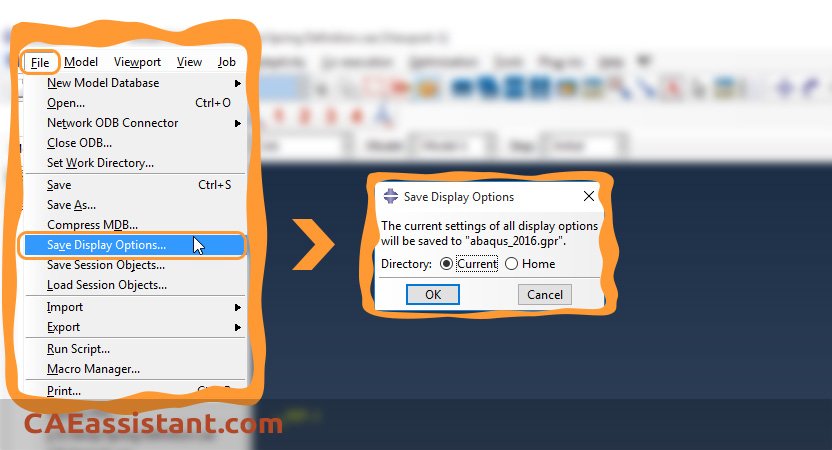 The Save Display Options dialog box appears and asks you to save the options in the current directory or in your home directory. If you select Current, the settings are applied whenever you open the current .cae file. If you want to save settings for all of your .cae files, select Home.
Abaqus/CAE saves the following display options settings:
Part and assembly display options; for example, render style, the visibility of the various types of datum geometry and simulation attributes, and the display of mesh, element, and node labels.
Graphics options and viewport annotation options. Abaqus/CAE also saves the perspective setting.
Print options.
Display options in the Visualization module; for example, the contour type for contour plots and the render style and fill color in the common plot options.
Animation options in the Visualization module.
Other options in the Visualization module, such as probe, field report, X–Y plot, and X–Y report options.
You must login to post comments
Your Answer
Please login first to submit.