If you want to start a challenging and interesting career, you should look into Finite Element Analysis (FEA) | FEA project earn money.
Every product a company or brand sells to its customers should undergo a series of tests to ensure its long-term viability in the real world. Manual testing and simulation are not financially feasible because there can be thousands of iterations of the same product. In such a case, Finite Element Analysis (FEA) can assist the company in narrowing the product down to a few handfuls of iterations, which can then be prototyped and tested before moving on to large-scale manufacturing.
In this article, you will learn about the abilities required as an FEA engineer. In the following, we will tell you the ways you can earn money as an FEA engineer.
Contents
Five ways you can earn money with FEM
1. Career Opportunities for an FEA Engineer
2. How much does an FEA Engineer make?
3. Requirements for an FEA Engineer
4. Five ways you can make money with FEM
4.1. Receive an FEA project!
4.2. Upload your resume to a site!
4.3. Search for job positions!
4.4. Upload FEA videos on YouTube!
4.5. Earn money from your past projects
1. Career Opportunities for an FEA Engineer
FEA has grown into one of the most prominent areas of study for mechanical and civil engineers. And this means you can earn a high income by becoming a professional in this field.
Between 2022 and 2028, the Global Finite Element Analysis (FEA) Software market is expected to grow significantly during the forecast period. In 2021, the market was growing steadily, and with key players increasingly adopting strategies, the market is expected to rise over the projected horizon.
It would be best to decide which area of mechanical engineering you want to work in; fluids, structures, electromagnetics, etc. Before applying for FEA analyst positions, You must decide whether you want to develop FEA software or use FEA software to solve problems.
An object, part, assembly, or structure's behavior under a variety of physical conditions can be understood, analyzed, and predicted through the use of mathematical calculations, models, and simulations in finite element analysis (FEA). This article explains FEA in-depth, including its operation, applications, and some well-known software that makes it possible.
2. How much does an FEA Engineer make?
It depends on experience, but it's competitive and rewarding. The estimated total pay for an FEA Engineer is $130,000 per year in the United States area, with an average salary of $110,000 per year in the world. The estimated additional pay is $24,000 per year. Additional pay could include cash bonuses, commission, tips, and profit sharing.
These sums are not paid only for simulation analysis of limited parts. Generally, the engineer in this position must have sufficient knowledge of basic and conceptual design, simulation, and engineering for modeling and drawing.
Product design engineers, CFD analysts, and scientists are all in high demand, as are FEA engineers. As a result, certainly, there will never be a shortage of FEA engineers.
Imagine that you are intrigued by various aspects of structural analysis, such as how heat causes a component to become stressed, how vibrations affect stresses, and how dynamic forces cause various stresses. If that's the case, you might be a good fit for the finite element analysis (FEA) field.
3. Requirements for an FEA Engineer
If you want to apply for an FEA analysis job, you need to fulfill these basic requirements:
Having a solid understanding of the strength of materials, Finite Element Methods, applied mechanics, and engineering design.
Expertise in using Microsoft office applications.
Excellent verbal and written communication skills.
Having a Bachelor's and Master's Degree in Mechanical, Civil, or Aerospace Engineering.
Minimum two years of FEA experience in the field of Mechanical Engineering / Heavy Engineering industry.
Having In-depth knowledge of FEA tools like Abaqus.
Having a high degree of initiative, independence, and diligence.
It is better to have below skills to engage in a high-salary job in the field of FEM:
Eagerness to learn and expand responsibilities.
Good social skills.
Ability to build a long-term working relationship.
Gaining confidence in your models and results is the most challenging aspect of being an analyst. However, with enough practice, you will be able to handle all of the objections more effectively.
4. Five ways you can make money with FEM
The responsibilities of FEA analysts range from straightforward linear static analysis to more involved work in non-linear static and linear response dynamic analysis; Moreover, they provide design and product engineers with cost-effective and timely practical solutions to the various structural failure modes.
An FEA engineer can work in companies such as composite manufacturing parts or industrial parts manufacturing such as turbines, medical devices, automobile parts, aerospace, etc.
In the following, we would like to introduce the sites and institutions cooperating with finite element engineers, non-remote or remote. You can submit a request for cooperation on these sites by sending your CV.
In some ways, you need to send your resume to a company. In others, you need to upload your resume to reputable sites so that different companies can contact you if needed.
In any case, you must be patient and persistent in working in a good company. As much as you can increase your capabilities as an FEA engineer, you can get a more suitable job position and income. FEA project earns money for you.
Now drink a cup of coffee first, and let's see how much money you can make.
⭐⭐⭐

Free Abaqus Course | ⏰10 hours Video  👩‍🎓+1000 Students   ♾️ Lifetime Access

✅ Module by Module Training                                  ✅ Standard/Explicit Analyses Tutorial

✅ Subroutines (UMAT) Training                    …           ✅ Python Scripting Lesson & Examples
4.1. Receive an FEA project!
Nowadays, one of the common ways to work remotely is to receive projects related to the field of study. These projects may be defined by a person or a company. Sometimes you can request cooperation from a company as a project temporarily, and after the end of that project and receiving your salary, you can no longer work with that company. In some cases, they may ask you to continue cooperation after completing the project, in which case you are lucky!
If you are interested, you can send your resume to the project owner. Then, according to the specified time to complete the project and the price determined for the project, sign a contract if both parties agree.
Below are the addresses of the most reliable sites for receiving projects. You can search the topic of your desired project on these sites and find the project you want.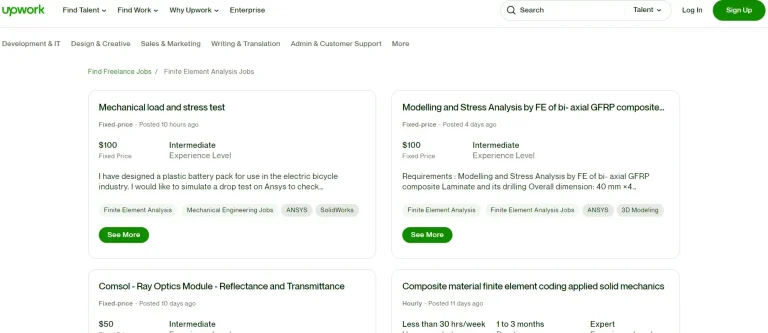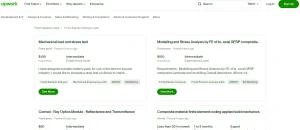 Figure 1: FEA engineer job position on the UPWORK site
4.2. Upload your resume to a site!
Another way to work as an FEA engineer is to post your resume on job search sites. You can introduce yourself to companies and people by creating an account and entering all your engineering capabilities and abilities on these sites, so if a company needs your skills, they will contact you and start working.
Also, you can enter your desired job position, salary, and working hours completely so that the company and the recruiter can request cooperation according to your conditions. If you specify your location, companies around you can easily communicate with you. FEA project earns money for you.
You can create a business account and introduce yourself on these sites: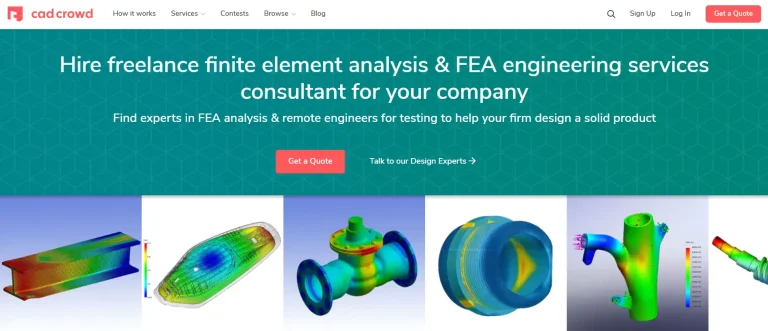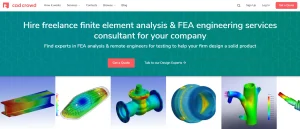 Figure 2: Hire an FEA engineer on the Cadcrowd site
4.3. Search for job positions!
If you have ever looked for a job on the sites, you have seen sites that have uploaded various job positions along with the salary amount on these sites. You can choose the one you want according to your interest and the salary and conditions of each job and send your resume to that company.
Of course, you must also have your complete and accurate CV in your account so that after seeing your cooperation request, the company can measure your abilities and contact you for cooperation. You should mention your work history and the names of the companies and institutions where you worked.
You can see the job positions you want on the following sites: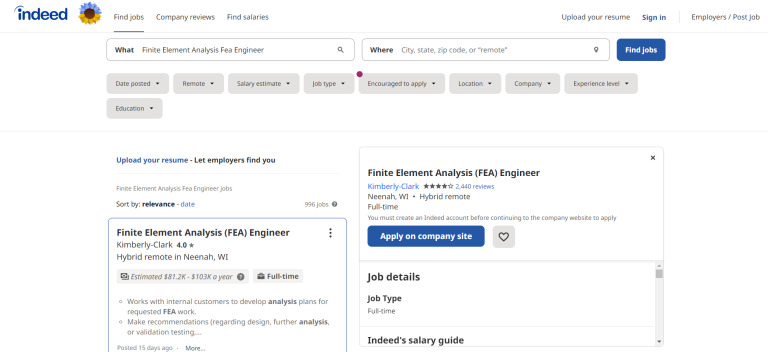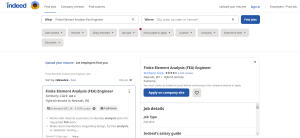 Figure 3: search for a job on the Indeed website
4.4. Upload FEA videos on YouTube!
Would you like to make money on YouTube even while you are sleeping?
Today, one of the popular social media among people is YouTube. As you know, many educational and entertainment videos are uploaded here daily. You can make money by presenting and publishing your FEA skills in video format. But this method requires persistence and a strong spirit to give useful results. If you have a large number of subscribers, you can begin receiving money quickly. In your YouTube Studio dashboard, you can monetize your videos after creating your channel and growing your audience. You can also make more money from your videos by using Google AdSense.
To earn money directly through YouTube, you must have at least 1,000 subscribers and 4,000 watch hours in the past year.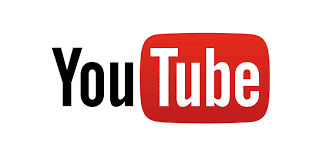 4.5. Earn money from your past FEA projects
You have definitely worked on various academic and industrial projects for many years, many of which have now been documented as a thesis or report and have no other function. Compared to other methods, one of the advantages of this method is that it is easy to work while earning a high income. You can sell your past projects without paying any fees.
CAEassistant is one of the most reliable sites in this field. You can prepare and send a completed project titles list to this site. This institution selects very attractive topics. Then they will contact you for cooperation. After that, you can write and send a brief explanation of the topic so that this site gets to know the topic well, and if it agrees, it will cooperate with you in preparing training packages.
One of the advantages of this method is that you don't need to present your entire project to be sold; you can only present the basic and important points of your project in the form of a training course to cover the questions and problems of all audiences. Therefore, you can be assured of maintaining the intellectual property of your project and thesis with the CAEassitant. FEA project earn money for you
Also, to earn money from this method, you don't need to take difficult steps like the previous methods or wait a long time for the company's response. It is enough that you have professional knowledge of the project you have done to be able to provide its training well. For example, the producers of Additive Manufacturing or 3D Printing simulation in the ABAQUS package were able to earn more than 10,000 dollars in one year.  Interesting, right?
To fill out the cooperation request form and start receiving income from this method, you can check this link and email to this address: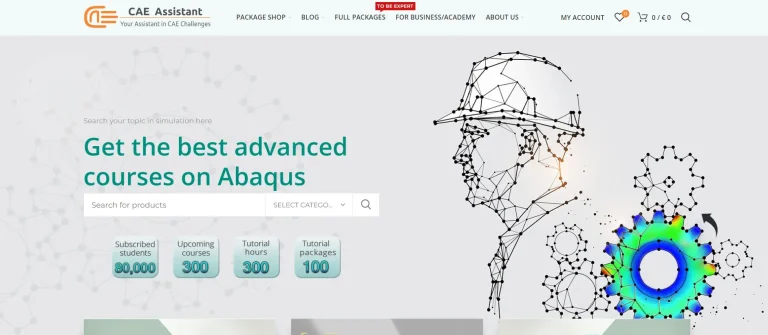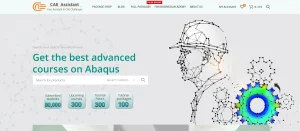 The CAE assistant teaches solid mechanics engineering and other advanced engineering courses. If you're a student of engineering, you've probably heard of "composite materials," "shape-memory alloys," and "3D printing." Here, simulation training for such things is provided by the CAE assistant. Two main distinctions exist between their training and other online training, particularly on YouTube. First, in contrast to other training, which typically targets undergraduate students and is typically offered at the elementary level, their advanced engineering courses typically cover topics at the advanced level. Second, in these classes, the majority of the emphasis is placed on providing examples of codes and instructing students how to code using advanced analysis software like Abaqus.
⭐⭐⭐

Free Abaqus Course | ⏰10 hours Video  👩‍🎓+1000 Students   ♾️ Lifetime Access

✅ Module by Module Training                                  ✅ Standard/Explicit Analyses Tutorial

✅ Subroutines (UMAT) Training                    …           ✅ Python Scripting Lesson & Examples
FEA project earn  money for you
In the video below, you can find more information about teaching on CAEassistant.com
| | |
| --- | --- |
| ✅ Subscribed students | +80,000 |
| ✅ Upcoming courses | +300 |
| ✅ Tutorial hours | +300 |
| ✅ Tutorial packages | +100 |