As you know, we need to link Abaqus and Intel Fortran to execute user subroutines such as VUMAT, UMAT, USDFLD, etc. Abaqus Fortran linking can be done in various versions of Abaqus and Fortran. Here in this article, we are trying to

link Abaqus 2017 and Fortran

on Windows 10 (x64). To do that, we also need another program named Microsoft Visual Studio.
What do we need for abaqus fortran linking?
As you can see in the article Compatible versions of Intel Fortran and Visual Studio for Abaqus, this is the compatibility list for Abaqus 2017:
Intel Parallel Studio XE 2013 or above
Visual Studio 2010 or above
We will use:
1. Abaqus 2017
Remember that user subroutines are not available for the Student version.
2. Microsoft Visual Studio Ultimate 2013 with Update 5
It is free software. You can download it here:
https://visualstudio.microsoft.com/vs/older-downloads
On that page, you can also find older versions (for example, Visual Studio 2013 which is needed here):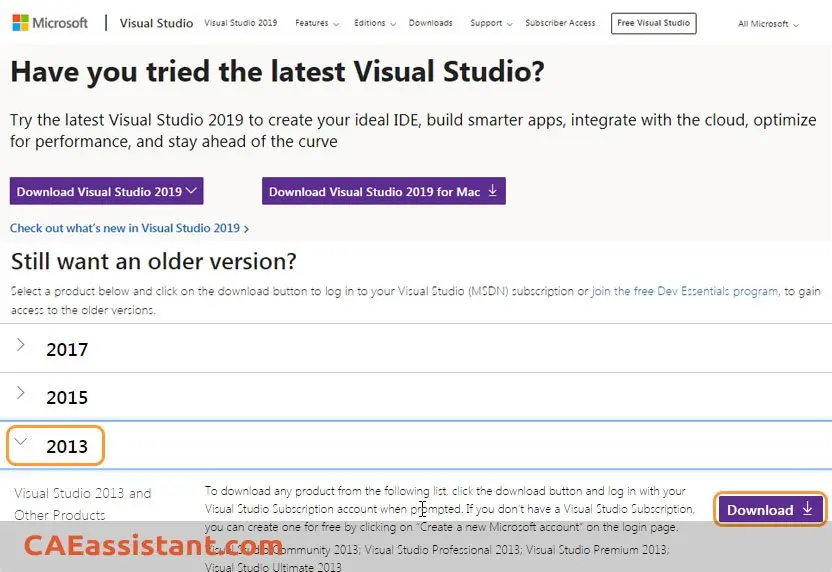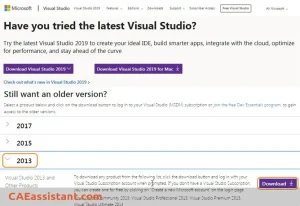 3. Intel Parallel Studio XE 2017 Update 2 Cluster Edition
You can subscribe to download the Student version of Fortran free from here:
https://registrationcenter.intel.com/en/forms/?productid=2871
(You need to have an academic email to receive a free student license from Intel).
Notes:
1. In order to have a correct Abaqus Fortran linking, you should install Visual Studio first, then Intel Parallel Studio XE.
Avoid changing the installation directory structure to find files required for the next steps more easily. If you lack space in drive C, just change the installation drive. In addition, installing both programs on the same drive is recommended.
2. Some references suggest that Abaqus should be installed at last. As an experience, it does not matter at all. Therefore, you can link your existing Abaqus with Fortran just by installing compatible Visual Studio and Intel Fortran.
3. In fact, we do not need to install the full package of Visual Studio and Intel Fortran. However, if you are unsure about what Abaqus needs to be installed, install them with default options. This is the simple way to avoid the failure of Abaqus Fortran linking.
---
Read More: Abaqus tutorial videos, Abaqus course & training
---
Step 1: Installing Visual Studio
Just follow the procedure. There is no need to change any default. If you want, you can change the installation drive (considering the second note):

Step 2: Installing Intel Parallel Studio
Look at the image below and follow the installation procedure: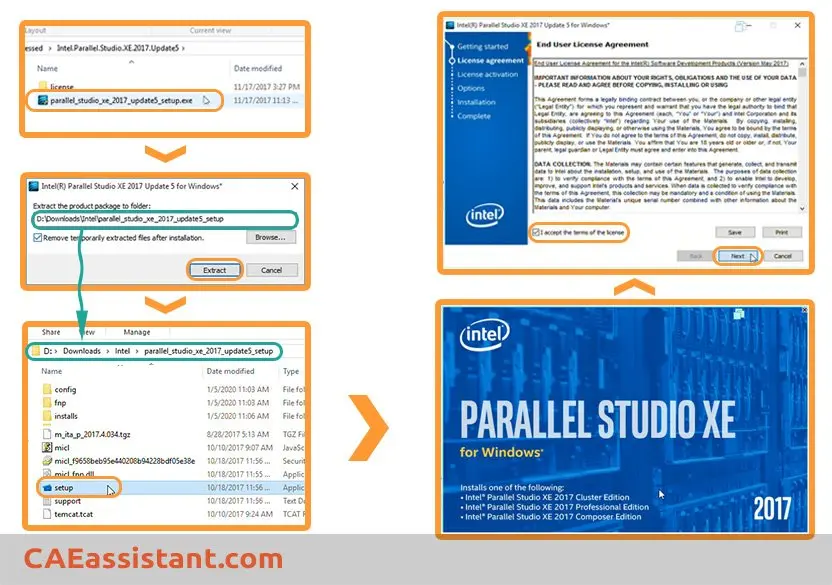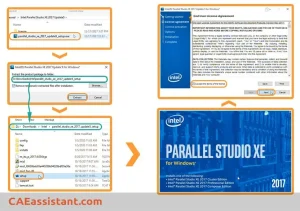 In the next window, the installation wizard may report some issues: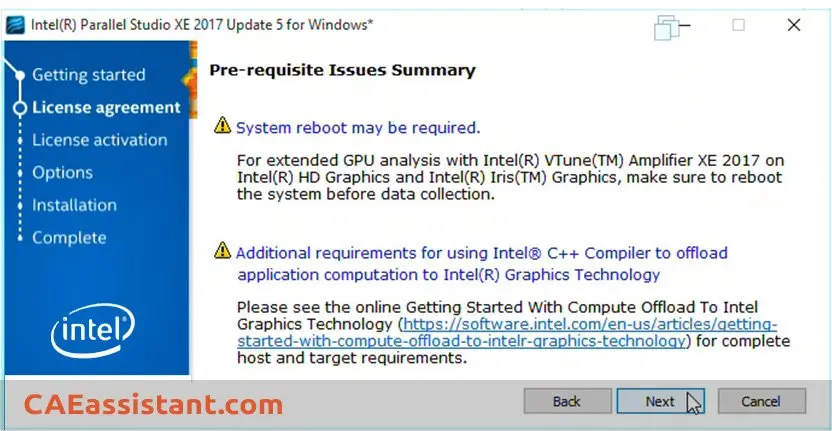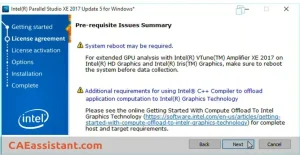 Issues like these are OK. Press Next.
In the License Activation step, select Choose alternative activation:
Read more
You must log in to read the rest of this article. Please log in or register as a user.