Sometimes you may need to use an .inp file to run an Abaqus job, instead of constructing your model through Abaqus/CAE (graphical interface of Abaqus). For example, you find a sample .inp from Abaqus documentation and want to open it in Abaqus/CAE or run it.
Running input file in Abaqus/CAE
Go to the Job module. Select Create Job, name the job, and then under Source pull down menu, select Input file. Browse to you input file. After that, click Continue… OK to the edit job dialog box. Now in the Job Manager window, select your newly created job. Click Submit and cross your fingers 🙂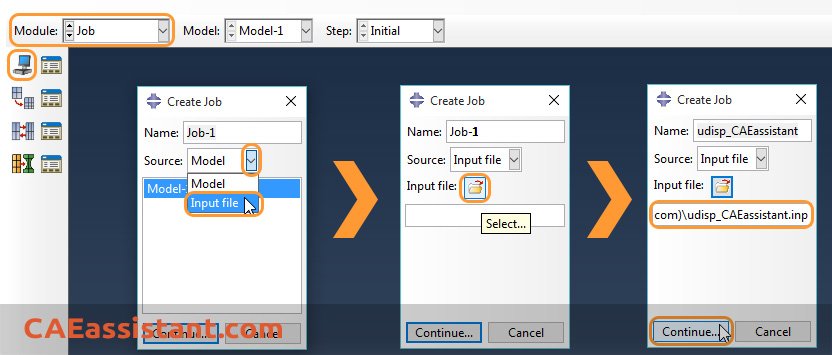 Opening input file in Abaqus/CAE
You can also open .inp file in Abaqus to have a sense of geometry, materials, etc. See How to open the input file in Abaqus?
Caution!
It is a wrong procedure:
1. Importing .inp file in Abaqus/CAE.
2. Creating a regular job (based on the Model produced) and running it.
3. Viewing the results.
(Can you say why?)
Eager to hear from you…
Any complication or other questions? Feel free to comment here…
You can also send any new questions from the Questions and Answers page. Just find that blue Ask Question button at the top right corner…
You must login to post comments
Your Answer
Please login first to submit.