In Abaqus, user subroutines are primarily written in Fortran, although developing your code in C or C++ is also possible. If you are newer to Abaqus subroutine, you should start from here:
Start Writing a Subroutine in Abaqus: Basics and Recommendations
Fortran is one of the easiest programming languages to learn because it can do virtually nothing other than basic low-level operations common to all languages. Its syntax is also very similar to MATLAB. Furthermore, you need to know only an even smaller subset of FORTRAN to write a subroutine code in Abaqus. Here is a handy package of almost all the things you will need…
1. Basics
A Fortran program is just a sequence of lines of text. It has to follow a specific structure. Take a look at this simple piece of code:
 

     PROGRAM 

CIRCLE


      REAL R, AREA



C

 

THIS PROGRAM READS A REAL NUMBER R AND PRINTS




C

 

THE AREA OF A CIRCLE WITH RADIUS R.


 
      

WRITE

 (*,*) 'GIVE RADIUS R:'
      READ  (*,*) R   

!

THIS IS RADIUS OF THE CIRCLE


      AREA = 3.14159*R*R
      WRITE (*,*) 'AREA = ', AREA
 
      STOP
      

END
Originally, all Fortran programs had to be written in all upper-case letters. However, Fortran is not case-sensitive, so "X" and "x" are the same variable.

Column Position Rules
Fortran has very few rules for how to format the source code. The most important rules are the column position rules:
» Col. 1        Blank, or a "C" for comments
» Col. 1-5    Statement label (optional)
» Col. 6       Continuation of the previous line (optional)
» Col. 7-72  Statements
Comments
The lines that begin with a "C" here are comments and have no purpose other than to make the program more readable. You may also use the exclamation mark (!) for comments. This type of comment can be any place among your piece of code (look at '!THIS IS RADIUS OF THE CIRCLE').
Statement label
Statement labels are used to mark positions in the program. Typically, many loops and other statements in a single program require a statement label. The programmer is responsible for assigning a unique number to each label in each program (or subprogram). Look at 4.1. Loops Section (Do Loop) in the second part of this article (Under Construction) to see a practical use of statement labels.
Continuation
Sometimes, a statement does not fit into the 66 available columns (7-72) of a single line. One can then break the statement into two or more lines, and use the continuation mark in position 6 (I mean you put 5 spaces and then type +). Example:
C

 

THE NEXT STATEMENT GOES OVER TWO PHYSICAL LINES


      AREA = 3.14159265358979
     +       * R * R
Any character can be used instead of the plus sign (+) as a continuation character. Also, we may use digits (using 2 for the second line, 3 for the third, and so on).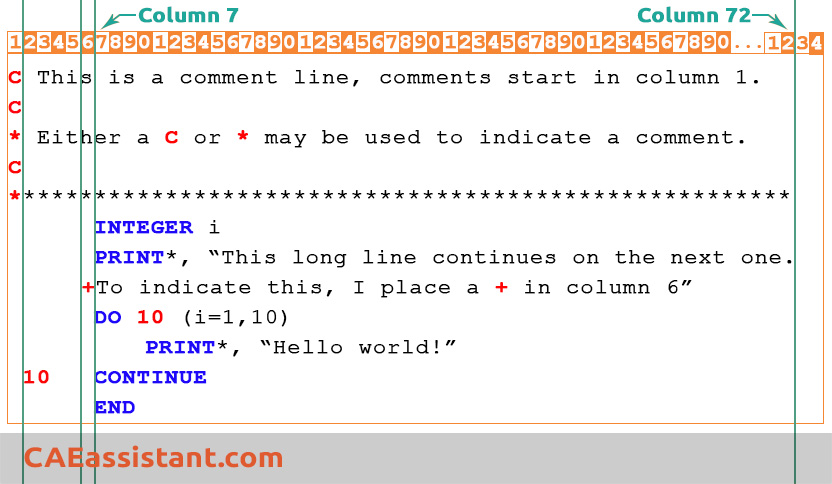 2. Data Types in Fortran
Variable names
Variable names in Fortran consist of the letters A-Z, the digits 0-9 and underscore (_). The first character must be a letter.
Like many other languages, the words which make up the Fortran language are called reserved words and cannot be used as names of variables. Some examples are PROGRAM, REAL, STOP, END, etc.
Variable Types
Fortran supports several different data types to make data manipulation easier:

The most frequently used data types are integer and real (floating point).
Integers
An integer is a number that can be written without a fractional component. For example, 21, 4, 0, and −2048 are integers. Fortran has only one type for integer variables. They are usually stored as 4 bytes variables.
Floating-point variables
When a number is not an integer, it is considered a decimal. Fortran has two different types for decimal (floating point) variables, called REAL and DOUBLE PRECISION. Numerical calculations in subroutines usually need very high precision and DOUBLE PRECISION should be used. Usually, a real is a 4-byte variable and the double-precision is 8 bytes. You may use the syntax REAL*8 to denote 8-byte floating-point variables in Abaqus subroutines.
Declarations
Every variable should be defined in a declaration. This establishes the type of the variable. The most common declarations are:
      INTEGER           Variable1, Variable2,…
      

REAL

              Variable1, Variable2,…
      DOUBLE PRECISION  Variable1, Variable2,…
Each variable should be declared exactly once. If a variable is undeclared, Fortran uses a set of implicit rules to establish the type. This means all variables starting with the letters I, J, K, L, M and N are integers and all others are real. You have to be very careful with variable names.
However, you can make a habit to put a simple piece of code at the top of each of your subroutines:
      IMPLICIT NONE
Then, you must explicitly declare every variable that your subroutine uses or needs.
Parameters
Some constants appear many times in a program. Therefore, it is often desirable to define them only once, at the beginning of the program. This is called PARAMETER in Fortran:
To reduce the number of typos (i.e. typing errors).
To facilitate changing a constant that appears many times in a program.
To increases the readability of the code.
For example, we can rewrite the example code above (circle area) as:
      PROGRAM

 CIRCLE
      

REAL

 R, AREA, PI
      

PARAMETER

 (PI = 3.14159)
C 

THIS PROGRAM READS A REAL NUMBER R AND

...


      .
      .
      .
      END
The syntax of the parameter statement is
      PARAMETER

 (name1 = value1, name2 = value2, …) 
The PARAMETER statement(s) must come before the first executable statement.

Arrays
Many computations in Abaqus subroutines use vectors and matrices. The data type Fortran uses for representing such objects is the array. A one-dimensional array corresponds to a vector, while a two-dimensional array corresponds to a matrix.
1D arrays
It is just a linear sequence of elements stored consecutively in memory. For example,
      REAL

 A(6)
declares A as a real array of length 6. By convention, Fortran arrays are indexed from 1 and up. Each element of an array can be thought of as a separate variable. You reference the ith element of array A by A(i).
2D arrays
Matrices are very important in linear algebra. They are usually represented by two-dimensional arrays. For example, the declaration
       REAL

 A(3,5)
defines a two-dimensional array of 3 × 5 = 15 real numbers. It is useful to think of the first index as the row index, and the second as the column index.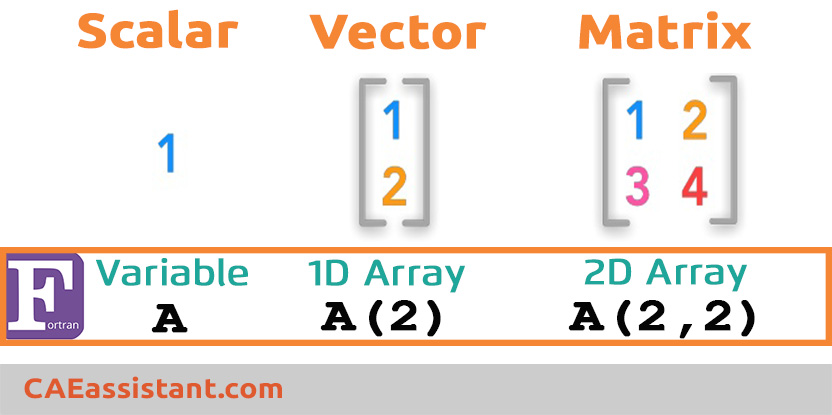 This article has a second part (Fortran 'Must Knows' for Writing Subroutines in Abaqus (PART II))
References:
FORTRAN 77 for Engineers and Scientists with an Introduction to Fortran 90, L. Nyhoff and S. Leestma, Prentice Hall
Fortran 77 Tutorial, Stanford University